The IT industry is notorious for buzzwords that come and go. In recent years we've seen hype surround blockchain, NFTs, and the metaverse – just to mention a few – but the latest buzz is around SaaS (Software as a Service), a subscription-based model that has existed for the last two decades but that since last year is on everyone's lips.
Improvised Twitter/X gurus claim "people underestimate the potential of vertical SaaS" and insist "you HAVE TO start a vertical SaaS" in order to be successful in 2023. But what do these terms really mean, and is the SaaS hype justified?
In this article, we'll cut through the noise and provide a balanced look at SaaS, particularly the differences between horizontal and vertical models. Our goal is to help you understand if and how SaaS could benefit your business, not pressure you to jump on the bandwagon. Just to remind you, once again, that in tech there is no one-size-fits-all solution.
What is SaaS (Software as a Service)
Let's start from the basics. Software as a Service, or SaaS, is a way of delivering software applications over the internet. Instead of installing and maintaining software locally, you simply access it online.
With a SaaS model, you pay a subscription fee to use the software. This gives you access on demand whenever you need it. The fee is usually monthly or yearly based on the number of users.
One major benefit of SaaS is that it takes care of infrastructure and updates for you. The SaaS provider ensures the application, hardware, and networking are all running smoothly. They handle maintenance, troubleshooting, and new releases, so you don't have to worry about any of that.
Adoption is especially prevalent for customer relationship management (CRM), human resource management (HRM), and other critical business capabilities.
SaaS can be categorized into two groups based on the audience they serve: Vertical SaaS vs Horizontal SaaS. To illustrate this difference, I will provide two examples from my professional experience. Let's delve deeper!
Horizontal SaaS
Horizontal SaaS refers to broad software solutions that can apply to many different industries and customers. These are designed to satisfy general business needs like email, storage, office tools, CRM, accounting, etc. Horizontal SaaS providers aim to scale out their large customer base rather than deeply customize their offering.
The appeal of horizontal SaaS is its out-of-the-box nature. Customers can quickly adopt the solution to realize benefits since extensive configuration is not required. Horizontal SaaS also allows providers to reach a larger market vs. niche-specific products.
However, one tradeoff is that horizontal tools lack vertical-specific features that customized vertical solutions have. A CRM for the financial sector would have different needs than one for retailers, for instance. Horizontal SaaS adopts a one-size-fits-all approach which may not suit certain customers.
Additionally, the competition is fierce in horizontal SaaS markets because so many providers are after the same massive target base. Standing out requires winning on elements like brand, price, quality, and marketing.
An Example of Horizontal SaaS: Salesforce
Salesforce is the prime example of a successful horizontal SaaS provider. Their core offering is a cloud-based CRM platform accessible to all types of businesses. Salesforce aims to be the one-stop-shop for managing customer interactions across sales, marketing, e-commerce, analytics, and more.
Historically speaking, Salesforce extended their horizontal offering into new capabilities through acquisitions. For instance, they acquired Demandware for e-commerce functionality and ExactTarget for email marketing. This expanded their addressable market across multiple customer touchpoints.
However, Salesforce does eventually verticalize once they reach sufficient scale in specific industries. They tailor CRM features, best practices, and workflows for verticals like financial services, healthcare, retail, and beyond. But they start with the broad horizontal approach to get critical mass.
Vertical SaaS
In contrast to horizontal SaaS, vertical SaaS focuses on delivering software targeted at specific industries, or niches. Rather than offer a broad, one-size-fits-all solution, vertical SaaS providers craft tailored products just for businesses in a particular vertical.
For example, software for the legal industry would enable law firm-specific workflows. Construction software could have modules for project planning, equipment tracking, and safety/quality control. And healthcare SaaS would incorporate patient portals, and insurance claim abilities.
The benefit of vertical SaaS is its ability to deeply address the unique needs of customers in a given vertical. The software baked in industry-specific capabilities rather than take a generic approach. This enables a high degree of specialization and customization.
On the other hand, targeting a niche vertical significantly limits the potential user base. Providers need to focus on dominating their narrow market vs. chasing wide horizontal adoption. Developing vertical-specific functionality is also more complex than horizontal SaaS generalization.
Additionally, vertical SaaS faces competition not just from other specialized players, but also from broad platforms adapting to vertical needs over time.
An Example of Vertical SaaS: Veeva Systems
Veeva Systems exemplifies vertical SaaS done right by focusing narrowly on life sciences. Peter Gassner, co-founder and CEO, initially led Technology at the horizontal SaaS provider Salesforce. Recognizing the need for tailored CRM in life sciences, he left to launch Veeva in 2007.
Though built on Salesforce's platform, Veeva developed industry-specific CRM designed for how pharmaceutical and biotech companies operate. They incorporated specialized functionality like call reporting, CLM and sample management.
Veeva CRM's vertical focus resonated, and they quickly dominated this niche market. But rather than expand horizontally, Veeva extended their vertical approach into other life sciences offerings over time.
For example, they launched Vault to manage content and data for clinical trials, regulatory submissions, and quality control and Veeva Network for Master Data Management, which in pharma often relies on external customer data providers.
In contrast to horizontal SaaS giants serving many verticals, Veeva focuses on truly specializing. This laser targeting enables them to tailor their software and accumulate industry expertise beyond competitors.
Vertical SaaS vs Horizontal SaaS: Choosing the Right Model
Before even considering horizontal versus vertical SaaS, validate that a subscription model actually aligns to your customers' preferences. In some B2C spaces especially, subscription fatigue is growing.
Assuming SaaS does make sense, adopting a vertical approach is not always the right choice despite claims that vertical SaaS is a path to riches. Here are key factors to help determine if vertical or horizontal fits best:
Founders' expertise: If coming from an industry background, it's logical to leverage that experience into a vertical solution. But those without existing vertical domain knowledge may be better off launching broad horizontal SaaS initially. After all, as already mentioned, horizontal SaaS can always verticalize in specific industries later on, when needed.
Size of target vertical markets: Niche industries with limited potential user bases may not justify vertical SaaS. But underserved, complex verticals like healthcare and financial services warrant specialized platforms.
Degree of unique needs within verticals: Some share mostly common requirements that horizontal SaaS can address. Others have deeply specialized workflows meriting custom vertical software.
Potential to expand scope over time: Once dominating a niche with vertical SaaS, providers can move into adjacent verticals or even horizontal capabilities. But start vertical if the expertise is there.
Conclusion
So, who wins in the Vertical SaaS vs Horizontal SaaS competition?
The key takeaway is that each come with pros and cons. There is no universally superior approach – it depends on your specific context and goals. Carefully analyze your market, capabilities, and options to determine the right strategic direction.
We hope this overview dispels some of the hype and provides an objective perspective on SaaS models. Now that you understand the core differences between horizontal and vertical SaaS, you can make informed software decisions for your business.
If you found this guide useful, please share it so others can benefit from a balanced view of the SaaS landscape beyond the buzzwords.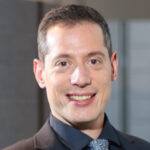 Italian cloud computing professional with a strong background in project management & several years of international experience in business consulting. His expertise lies in bridging the gap between business stakeholders & developers, ensuring seamless project delivery. During his free time, he enjoys fatherhood and immersing himself in nature.